Massive Zoom Guitar Lesson
We just ended our first massive ZOOM guitar lesson today! What an experience! The COVID-19 has suspended lessons in enrichment centres in Singapore since 26 March. Lessons will remain conducted over web conferencing until the end of April. However, this isn't stopping us or slowing us down. Instead, we found a new way to connect with our students! We got everyone available together for our first ever guitar masterclass over a webcam!
Teething issues from our first group lesson
To organize a massive ZOOM guitar lesson isn't easy! We found out some teething issues and hopefully they can help you run your lessons successfully!
Muting
Muting is a function available for both the host and the participants to use. Although weird at times to have nobody talking to you but we recommend to mute everyone when you are delivering your lesson material.
Screen Sharing

If left unchecked, a mischievous participant can potentially jeopardize your lesson. We recommend you set this to "Host Only". This function is only accessible through their setting page on their website.
Prepare Slides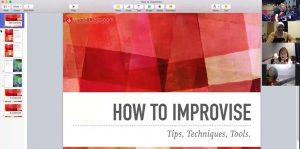 This is more of a tip than an issue. Learning by a person talking away can be difficult for some. Slides provide a great way to get the points delivered easily! I also allow the students to be able to use the slides for a recap of the lessons later!
Conclusion
While it is never better than having a group lesson physically together,  it was great to see everyone again and learn something! The group agreed that this is meaningful and helps them get out of the dreary COVID-19 situation. The students were given assignments after the session and were looking forward to another round of web conferencing! Some suggested a longer session with more interaction!
While our *Free Trial Lesson is usually conducted in our centre, we now do it over a webcam! The experience you get will be beyond your expectations! If you are not sure, you can drop us a text on facebook messenger too!
Video snippets of our first virtual group lesson!