Before you sign up for our Trial Music Lesson
It is important that you have a good idea of what to expect from our music programs. Our Full* Trial Music Lesson is not a gimmick but to show what we can offer you in your first lesson. It is a solid 45 mins worth of music lesson and lets you understand more about what future lessons will be like. Click the links below to learn more about us!
Testimonial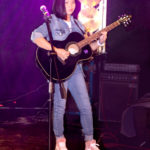 "Vinnie Classroom has a special place in my heart. The teachers and staff are so warm and friendly; it's not just a music school but feels like a second home! After spending half a year at Vinnie Classroom, I also realise that Teacher Vinnie's methods and style are undeniably different from other teachers that have taught me. I know because I'm growing and progressing at a steady pace. Teacher Vinnie always makes lessons more enriching by sharing interesting facts. This perks my interest in music tremendously. This shows that he does not just teach about techniques, but also practical and general knowledge needed for the long run."
Benefit from the popular full* trial music lesson (*upon sign-up for regular classes) and book with us today! The 45-minute trial, like a regular lesson could be the start of a musical journey you will treasure. We will bring out the best in you and show how you can one day perform on the big stage!