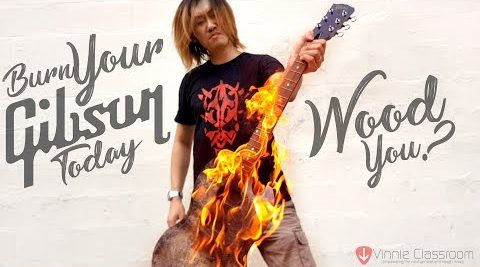 Yes that is right, I actually set my guitar on fire! Now I know that many will be out there ready to call my move a gimmicky one or simply a "click-bait"! It is more than just that.
I was influenced by Jimi Hendrix
You see, as a guitarist, I'm a rather big fan of Jimi Hendrix! I was always fascinated by that iconic moment when he lit his guitar on fire with zippo ON A LIVE SHOW. I will certainly not get a clearance in doing this on any stage I perform so I choose doing it in a controlled environment. So, if my guitar sacrifice ritual is a gimmicky move, I guess so can be said for the legendary Jimi Hendrix.
I'm actually particular about my guitars!
On regular days, I am very careful with my instruments. I was from a concert band beginning and was a trombonist. We were taught to take very good care of our instrument from day 1. Not even a fingerprint was supposed to be seen. So trust me, burning this guitar is quite a scary moment for me. However, over my years of working in a guitar store, I picked up the skills for repairing and modifying guitars. With that confidence in mind, I took this old guitar I had lying around for a really long time to prove a point. Will the paint on the guitar body help against the fire? I was also interested to know if I can create a unique finish through this ridiculous move! Or will I simply destroy a guitar and offer it to those above.
Going on a trip!
Yes as mentioned above, I'll be off on a rather exciting trip! I can't wait to share more here! To get a more instantaneous update, follow my instagram now!
However, if playing guitar is all you wish to do, you can find out how here.
You can also find out if I will restore this guitar into it's former glory if you subscribe to our youtube channel!
Vinnie.