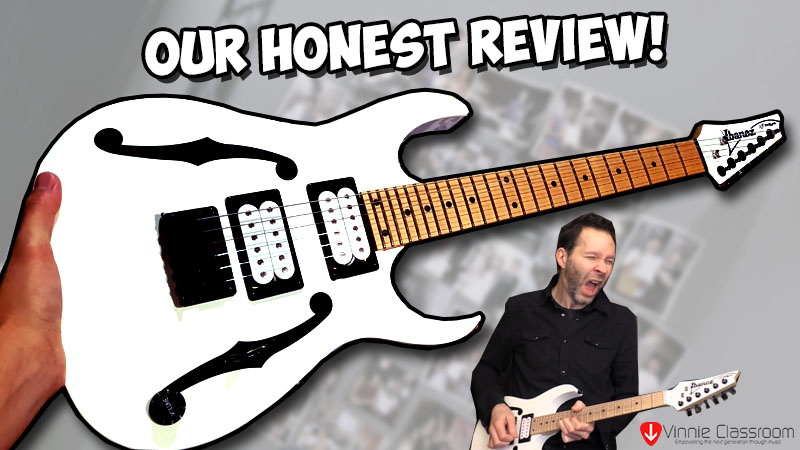 Paul Gilbert Ibanez PGM Mikro

Terrifying PGM since 1989!
The Paul Gilbert Ibanez PGM Mikro is the latest addition to the collection and we notice that it has been selling like hot cakes! However, the Ibanez PGM (Paul Gilbert Model) has been terrifyingly awesome since 1989! Paul's first signature model, PGM100, was made by Ibanez and has a purple body with pink painted f-holes. It features the popular Ibanez RG body with a floating bridge instead of a fixed bridge, like most of his later models. The fixed bridge came about as Paul started to develop his monstrous guitar techniques! I briefly remember from an interview that he doesn't enjoy the feeling of the floating bridge on his right hand and prefers it flat. In any case, we fans sure enjoy the fixed bridge as much as he does.
Ibanez PGM Mikro: made for crazy moves!
Don't be fooled by this smaller guitar and classify it a kid's model or a toy. This guitar is made for really crazy moves! Ultra wide bends, super wide stretches and really just about anything that you otherwise won't be able to accomplish on a regular guitar. Paul has been using this latest addition on many gigs and boy, the notes produced by this guitar is out-of-this-world! Words can't do justice to what it is capable of, so we made a short video to share what you can get out of this guitar!
Probably the shortest ever video to convince you to buy a guitar!
In this video, Vinnie incorporated…
Arpeggios so stretchy, you need to be Rachmaninoff!
Bends so wild we feel like we were teleported to the Serengeti!
Chords so in-tune you'd think we faked it with an expensive boutique guitar.
Single note melodies that sing better than the Titanic.
Honest Review!
I'm sure there are many reviews out there about this model by now, but we just wanted to assure you with our most honest review!
Tuning
Yes, the default string gauge is a little too skinny and the tuners are not helping the strings stay in-tune. Every so often, you will need to tune your guitar again and the tuners do not have the best gear ratio. But hey, these are an easy fix! We see this as minor and we are comfortable with using this string gauge because of the wide and wild bends it allows. We would advise you to upgrade to some locking tuners though.
Pickup tone
You will be glad to know that the pickup sounds really awesome! There is no need to look into replacing better pickups for this guitar! The amount of gain is enough for you to cover any Paul Gilbert songs easily and the tone isn't like a typical cheap electric guitar. Really glad with the tone!
Hardware
The only other hardware that you may want to consider replacing would be the input jack. Perhaps it is a one-off case but our PGM Mikro did come with an input jack that was almost impossible to plug in the cable. We swapped it for switchcraft but you can probably stick with the original hardware.
Bridge is very well made and the paint will probably not come off or tarnish any time soon!
Fretwork
A typical guitar in this price range will probably come with horrific fretwork. Not in this case, Ibanez lives up to its name as the king of the well-made mass production guitar. The frets are smooth and very well levelled! No dead fret or buzzing area!
Setup
We are not lying, we did not touch any of the setup on this guitar. The video you watched was played on an off-the-shelf piece! It is that good!
Paul Gilbert Singapore 2019 Attendees Take Note!
Win Paul Gilbert Ibanez Mikro from Swee Lee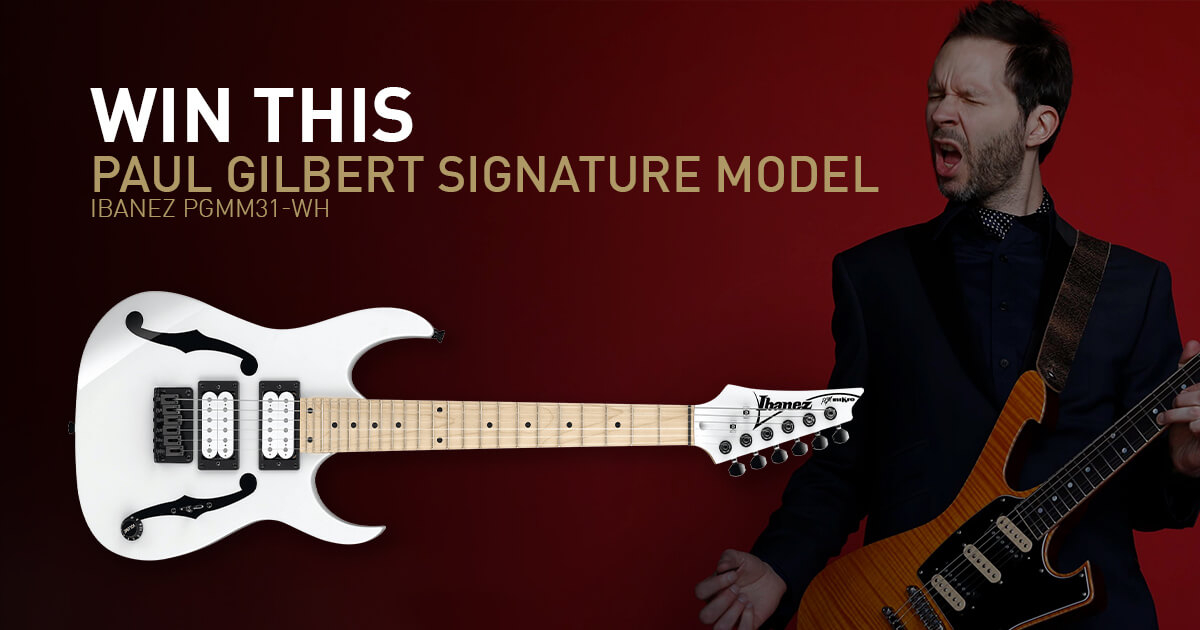 Before you assume we were asked by Swee Lee to promote this, we are just big fans of Paul Gilbert and wish to share the good news with everyone! To win this guitar, simply buy a ticket for this show and follow the instructions in this link! We managed to get our hands on one for this article, and are glad to have it so that all our students can get a go at this amazing guitar! Anyway, good luck to everyone and see you at the show!
Vinnie