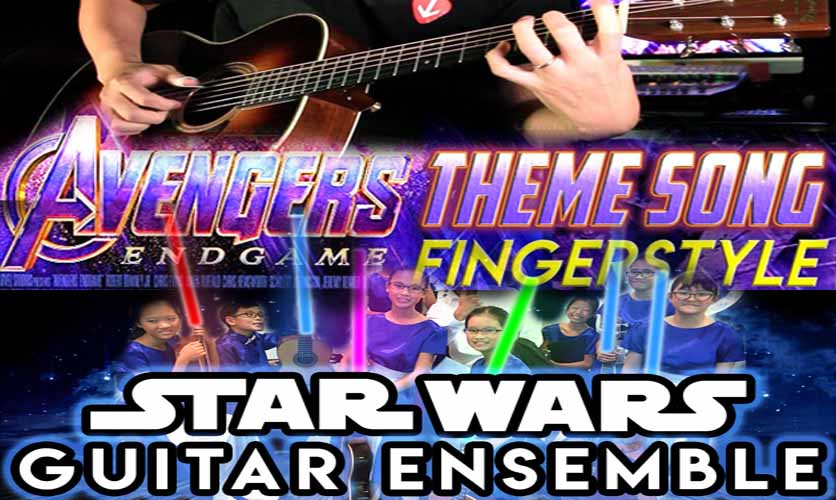 Star Wars fans out there will need no reminder that May 4th is Star Wars Day!
Remember too, Yoda's famous quote:
Do. Or do not. There is no Try (From The Empire Strikes Back).
Commit yourself to something completely, win or lose.
May the Force be with You!

Vinnie's guitar heroes at the Singapore Youth Festival Arts Presentation Guitar Ensemble.
---
When Practice makes almost Perfect
A big pat on the back for our student,
Nigel Oh who was awarded a distinction
for his Grade 1 Acoustic Guitar exam,conducted by the London College of Music.
Nigel started learning the instrument a
little more than a year ago. Nigel's teacher
Mr Tan Swee Siang said, "It's a
pleasure to teach Nigel. He's a keen learner and
always
interested. I'm seeing talent in him
and I'm proud of his achievement!"
Nigel said, "I feel this sense of accomplishment
and satisfaction for my first exam! I am
determined and looking forward to
master more from my mentor!"
Well done, Nigel!
---
The fact that Avengers: Endgame was 3 hours long and no one so much as complained says something about this epic superhero movie. We pay tribute to the Avengers theme song which carries so much power and heart. Vinnie Classroom salutes this iconic finale with an acoustic fingerstyle arrangement, so enjoy!
---
YouTube Drumming Sensation in Singapore
German drummer Anika Nilles built up a name for herself with 17 million views of her videos. Anika's playing style is distinguished by her strong groove, her finesse in technique, and her unique sound! Born into a family of drummers, she started drumming herself at age six. Anika is conducting a Masterclass on 18 May at 6.30pm, B1 Star Plaza at the Star Vista. The event is open to the public. We will be there to watch this drum maestro live in action, so join us if you can!
---
Upcoming events
14 -16 May Vinnie School Holidays
15 May – 12 June Registration open for ANZCA Exams Series 2
(Speak with your piano teacher if you think you're ready)
1 May – 25 Sept Registration open for Rockschool Exams Tour C.
(If you want to register let your guitar/drums teacher know)
29 June VCR 4 (watch this space for more details)
10 – 12 June Rockschool Tour B Exams
16 – 18 June Asian Supreme Drum Competition Qualifying Round
---
Music Facts You Didn't Know
Listening to music while working out can improve performance.
It's true! Music provides an ideal accompaniment when you exercise. Not only does music divert the mind from sensations of fatigue, loud, upbeat music can also
"psych you up". Musical tempo helps synchronize movements which leads you to perform more efficiently and trains endurance! So next time you work out, choose a
playlist that will make you feel good. And also lets you burn more calories at the same time!