Keyboard Lessons for Teenagers
Teenagers are picky about how their keyboard lessons are conducted. They are past the stage of taking instructions blindly from their parents. They are aware of what they like and what is good for them. Having a teacher that is reminding them to practice "Ballade Pour Adeline" by Richard Clayderman is the last thing they wish to happen.
Also, the teenager isn't a collective group of humans that all behave and react the same. Just like you and me, they have their own thinking and their own ideas. Here in Vinnie Classroom, we want to create a connection and understanding between teacher and student. There is no way we can help them progress if we don't even know what is a Billie Eilish.

More than just an examination
Lack of communication and unmatched expectations are often the cause of student dropping out of class. Teenagers wants things to be in "the now". They want to learn something that they can show their friends and feel proud of. The video they post on Instagram or TikTok should gain positive reactions. Music examination does very little to help with that. Though most music teachers will still insist on the examination route, we understand this is not the way to go. While demanding scales and exercises are still necessary to get someone good on the instrument, we know it can be done in a different approach. Goals and direction must match between the student and the teacher. That way, the student will benefit most out of the lessons.
With our annual recital and performance opportunity, our keyboard lessons students achieve more satisfaction through performing. Students who achieve a certain standard will also be invited to do a video recording. While we do offer keyboard examination under ANZCA and Rockschool, we emphasize more on having fun on the instrument by performance.
We are serious about our exam syllabus too!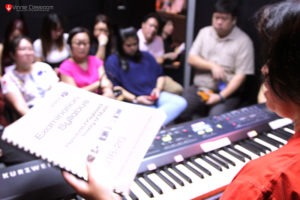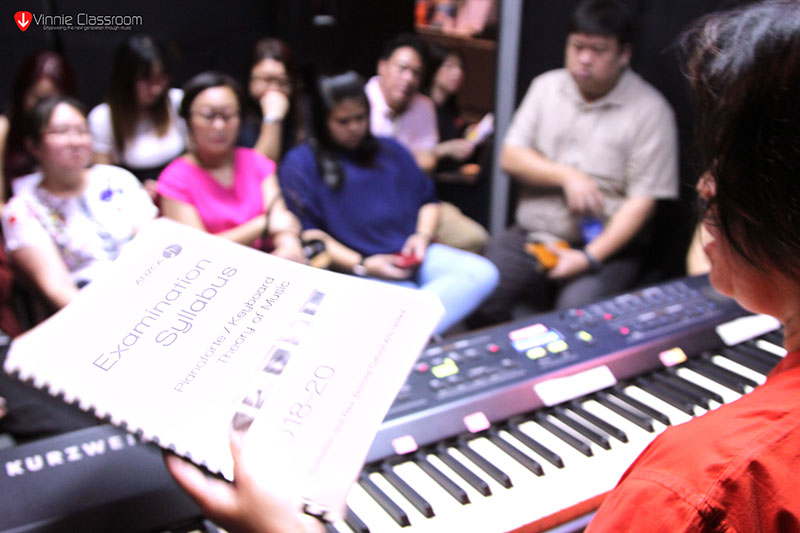 More than just adopting a syllabus, we've adopted the entire community! Vinnie Classroom has conducted workshops and refreshers for piano teachers in Singapore. Our last seminar "ANZCA Piano Syllabus 2019" was well received with full house attendance.
These seminars aid teachers to understand their students' requirements and the teaching syllabus better. In turn, ensuring your weekly lessons are more worthwhile!
Chat With Us now!
More Video Proof of our successful keyboard lessons for teenagers!
If a picture paints a thousand words, a video is worth a million! Together with strong teaching pedagogies, and experienced, patient teachers, we are able to consistently help dreamers realize their potential. We have too many videos and cannot share them all on this page, so be sure to subscribe to our YouTube channel and view all our other amazing pianists!
Tempted but not too sure if you should take the leap of faith? SIGN UP FOR A 'FREE' TRIAL LESSON!