Piano Lessons for Adults
Piano lessons for adults have to be the most neglected topic in many offices. The social stigma has it that it is impossible for an adult to embark on piano lessons and be successful at it. Most choose to believe that they are too old or their time has passed. While it is true that the cognitive and psychomotor ability of young children is far more malleable than adults, adults reign in the field of patience and compression!
Also, those who were not brought up listening to Antonio Vivaldi, Johann Sebastian Bach or Frédéric Chopin, will likely not enjoy classical music. Classical music may not be everyone's cup of tea! We live in a time where we have access to so many different types of music. The genres are ever-expanding. So finding an alternative to classical is a breeze! In fact, there's an exciting modern music syllabus available to help stimulate your creative juices!

ANZCA Modern Pianoforte Syllabus
Welcome to the ANZCA Modern Pianoforte Syllabus! It is available throughout Australia, New Zealand, and South-east Asia. This is a great alternative to conventional classical piano lessons! Not least because it covers a wide array of genres which include jazz, blues, pop and rock, ragtime and more.
ANZCA is well-known for it's an ever-evolving, innovative and flexible system that focuses on versatility in music education. The syllabus lists are carefully compiled. And of course, pays great attention to setting interesting and musical pieces. This is especially so for those who like the music that they hear around them, on Spotify, on the TV, and on-line. As it's the music of their culture, what they enjoy with friends, it can be fun to learn to play these popular songs. This is just the beginning and they will eventually develop a taste for a variety of music! All in all,  it is a well-rounded music education that encompasses the sounds of the present and the past too!
Chat With Us now!
Piano Lessons for Adults, by a close-knit community of teachers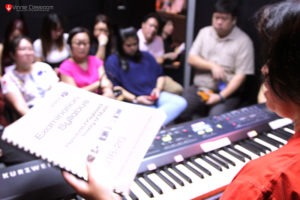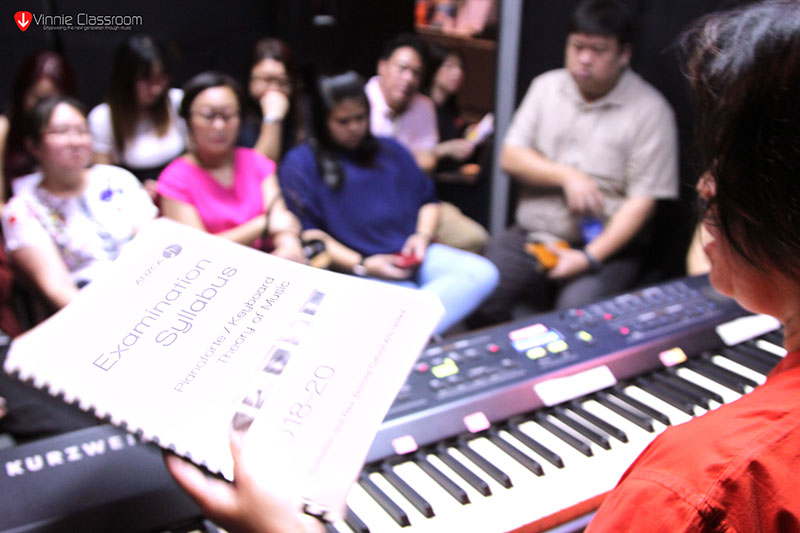 More than just adopting a syllabus, we've adopted the entire community! Vinnie Classroom has conducted workshops and refreshers for piano teachers in Singapore. Our last seminar "ANZCA Piano Syllabus 2019" was well received with full house attendance.
These seminars aid teachers to understand their students' requirements and the teaching syllabus better. In turn ensuring your weekly lessons are more worthwhile!
More Video Proof of our successful piano lessons for adults!
If a picture paints a thousand words, a video is worth a million! Together with strong teaching pedagogies, and experienced, patient teachers, we are able to consistently help dreamers realise their potential. We have too many videos and cannot share them all on this page, so be sure to subscribe to our YouTube channel and view all our other amazing pianists!
Tempted but not too sure if you should take the leap of faith? SIGN UP FOR A 'FREE' TRIAL LESSON!