Piano Lessons for Children
Ideally, piano lessons for children must be fun and safe. Together with strong teaching pedagogies, experienced and patient teachers who help develop the child to his maximum potential. Enrolling into the right school is potentially a make it or break it situation.
The best time to start piano lessons will be different for every child, but most will be ready between the ages of 5 to 9 years old. The cognitive, motor, and language developments during this stage makes the age of 5 an exciting time to begin piano lessons.
Having said that, piano students can start lessons after age 8 and all the way up to adults! The advantages that younger children have, such as more supple hands and the ability to easily acquire complex brain skills, can be made up for in older children and adults by independence, patience, self-control, and internal motivation to learn that younger children may not have.
So what is the best age to begin piano lessons? The answer is as soon as possible!

Or Chat With Us now!
Encore! On Keys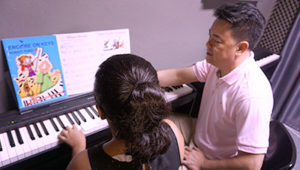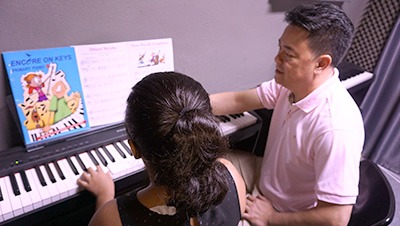 What's Encore! On Keys? It is an award-winning programme from Australia with a progressive curriculum that incorporates multiple learning layers. Music theory is also taught. And what's more, no musical background is required!
There are 3 different Beginner courses (depending on age) and 1 Advancing course. These are suitable for a variety of age groups and learning styles. The course involves playing with a backing track for every song to simulate ensemble playing.
The genre of songs comprises a broad range of modern music styles that include rock, baroque, classical, jazz, blues, and reggae. We highly recommend children start with this piano syllabus during their lessons with us. Our numerous success stories are the best testament to our recommendation.
More video proof of our successful piano lessons for children!
If a picture is worth a thousand words, a video is worth a million! We are proud to be entrusted by many parents to educate their children in their piano lessons. The results speak for themselves when these children are able to perform in recitals, live performances, and video recordings. We have too many videos to share on this page, so be sure to subscribe to our YouTube channel and view the rest of our amazing students performing on the piano!
Tempted but not too sure if you should take the leap of faith? SIGN UP FOR A 'FREE' TRIAL LESSON!