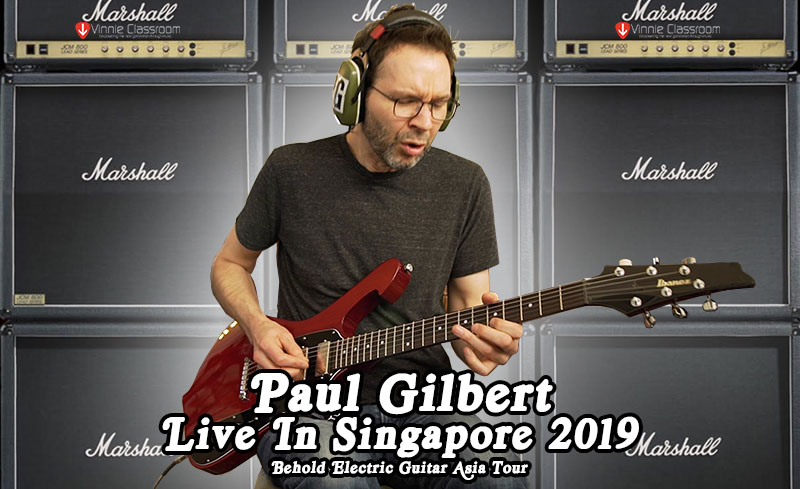 Guitar master Paul Gilbert here for Asia Tour 2019!
Paul Gilbert live in Singapore 2019! Paul Gilbert is one of the reasons Vinnie Classroom exists today in Singapore. Since emerging on the scene with RACER X, so many lives around the world have been transformed by his mad skills – his amazing speed and accuracy, along with beautiful melodious phrasing. But to the general public in Singapore, this name is probably not so well-known. So just who is Paul Gilbert?
Paul Gilbert Biography
From platinum album sales and number one chart success as a founding member of MR. BIG, to frightening the guitar community with new levels of ferocious picking technique with shred-pioneers RACER X, to exploring punk, pop, classical, blues, jazz, and progressive instrumental styles in his solo career, Paul Gilbert has recorded a massive amount of stunning guitar music, all while circling the globe to play sold-out arenas from Japan to Jakarta.

Paul's style stands out for it's rare combination of accuracy, creativity, and power – all which are balanced with Paul's sense of humor and pure love of music.

Although Paul is best known for his work with MR. BIG and RACER X, he has also toured with Joe Satriani's G3, played in a host of tribute concerts with legendary drummer Mike Portnoy, and been integral in the design of his signature Ibanez PGM and Fireman guitars.

Paul's legacy as a guitar instructor began when he was eighteen, when he was hired to teach at Hollywood's Guitar Institute of Technology. Paul's groundbreaking "Intense Rock" videos and DVDs have inspired legions of guitarists to improve their accuracy, speed, and phrasing. Years as a columnist for Guitar Player magazine, and most recently, Premier Guitar magazine, along with giving countless clinics, private lessons, and serving for five years as the dean of MI Japan, have given Paul deep experience in the art of communicating music to all levels of guitarists.

Over twenty-five years in the music business have only increased Paul's passion to explore the possibilities of music and the art of playing the guitar. Whether he's playing to 10,000 fans or jamming one-on-one with a student, Paul is living his childhood dream of taking the sounds in his head and bringing them into reality – on the electric guitar.
Why you should attend the concert
Musicians from the golden era of rock music are now granted with greater mobility to travel around the world. Thanks to Inokii, this is the first time we can experience Paul Gilbert live in Singapore 2019 as a solo artist! This means less of talking and singing, more of his wonderful showcase of his guitar mastery! If there is anything you would like to know, the venue Substation is not a particularly big space. This means you get to go really up close to Paul even if you enter the hall as the last person! Therefore, missing this show will be a huge loss for any guitarists or aspiring musicians!
Paul Gilbert performing as a solo artist for the first time in Singapore!
More guitar shredding, less singing!
Small venue means a ridiculously close-up view of Paul on the guitar.
Missing out this show is not advisable.
Where to get the tickets?
Tickets are available from BookMyShow.com. Early bird tickets are all sold out, but if you are a student of Vinnie Classroom, you get special discount from us! Speak to our admin today! This is because I truly believe I have the duty to get as many people to know about my hero as possible. Furthermore, what's there to lose?
Also, the number of VIP tickets are down to the last few! With so many freebies that come with the VIP ticket, you must get it!
VIP Meet & Greet Package Includes:
Concert ticket x 1
Item to be autographed x 1
Individual photo with Paul Gilbert x1
VIP lanyard x 1
VIP tag card x1
Priority entry queue x1
Asia Tour T-shirt (S/M/L/XL/XXL) x1
Behold Electric Guitar CD album x1
Paul Gilbert Live In Singapore 2019 Promo Video
Good morning #PaulGilbert fan. Pls like and share this beautifully crafted video by our team #hea Paul Gilbert – Live In Singapore 2019 Behold Electric Guitar🇸🇬🎸Only a handful of VIP tix left.Details at event page. Date of m&g is 1 day before the show 9 December 2019 (timing to be confirmed) tentatively evening.

Posted by Inokii on Sunday, 15 September 2019
Vinnie