How to set up ZOOM for drum lessons
Our chief drum teacher and a fellow industry friend share how to set up your ZOOM for drum lessons! Zoom, although it has its share of bad publicity, is the most popular and versatile video conferencing software today. With the system set up correctly, you won't need to worry about intrusion in your video call or bad audio quality. Let's dive right into the setup!
Security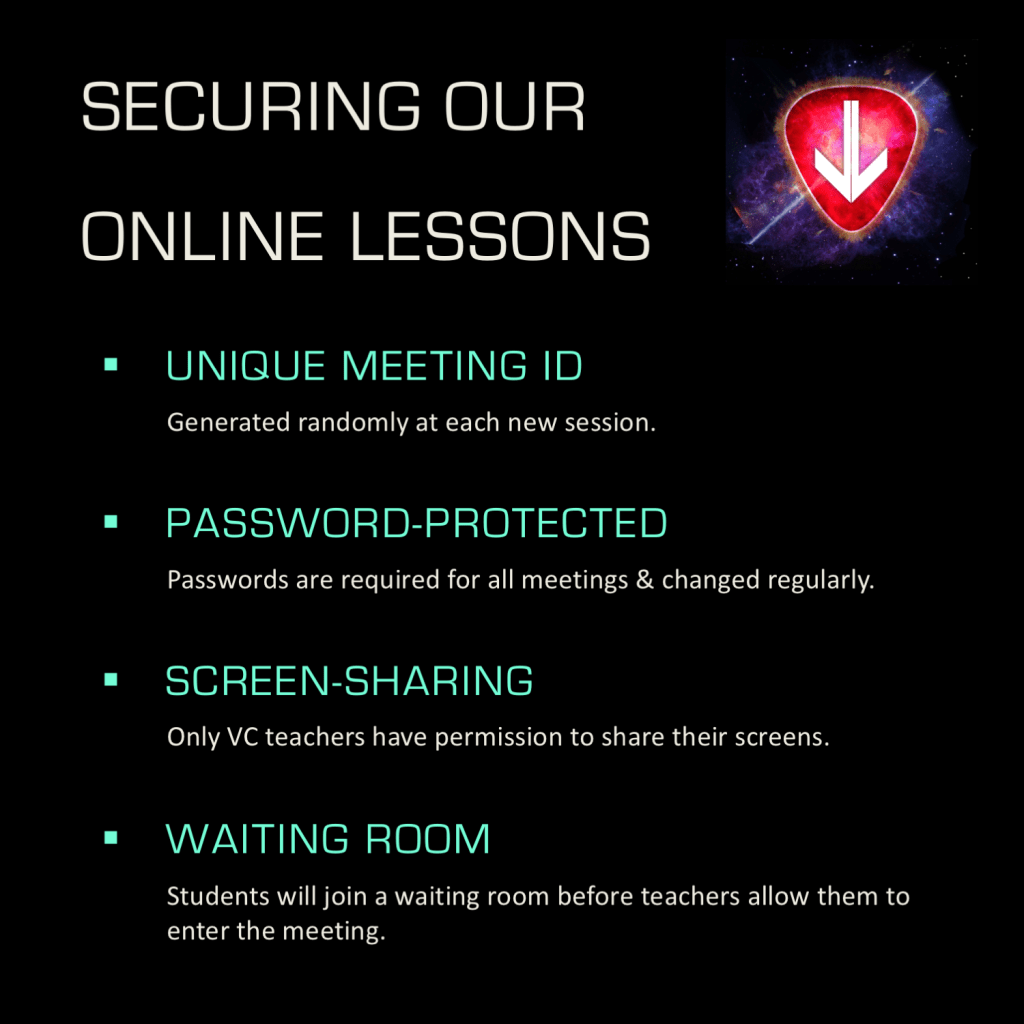 Security is the number 1 concern for parents. While the can monitor their child's video call session, they won't be able to stop an intruder in time. An intruder can send photos containing nudity or profanity if a chat room is not secure. They can also harass the users in the chat room. This is why we do our part in making sure that the system is set up correctly.
In case you are unable to view the image above, below are the points we share with all our students.
SECURING OUR ONLINE LESSONS
UNIQUE MEETING ID – Generated randomly at each new session.
PASSWORD-PROTECTED – Passwords are required for all meetings & changed regularly.
SCREEN-SHARING – Only VC teachers have permission to share their screens.
WAITING ROOM – Students will join a waiting room before teachers allow them to enter the meeting.
The drum teacher's setup for online drum lessons
Alfe's Setup
Windows 10 laptop
Focusrite Scarlett 2i2 USB audio interface
Electronic drum
Assorted cables
Unique setup: clip-on fish-eye so that students can see a more complete drumming angle
Vics's setup
Mac laptop
iPad
Electronic drum
Assorted cables
Unique setup: 2 different video angles. This is useful in some teaching situations. However, this means there will be a 40-min limit for free account.
Advanced Setup (you likely missed)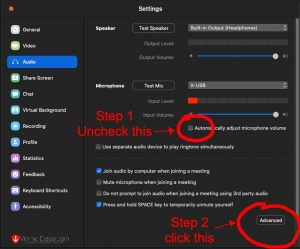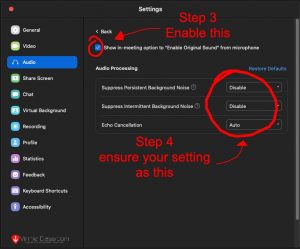 Before we figured out this audio setup, we had a hard time to get the drum to work over ZOOM. The system is designed for speech and not sudden spiking audio. So while the default setting allows your voice to sound loud and clear for your participants, it compresses and mutes the drum as soon as we hit it. Go to your ZOOM's audio setting and set it up like this! You can thank us by sharing this to your friends, colleagues and
students
.
Conclusion
While it is not ideal to have drum lessons over video call, we are happy to be able to continue our lessons with our students! To all music teachers out there, stay strong and positive!