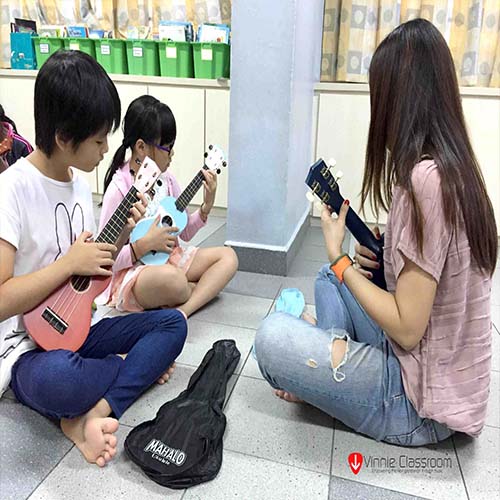 1) COGNITIVE TRAINING
As from the Wikipedia source:
The term brain fitness reflects a hypothesis that cognitive abilities can be maintained or improved by exercising the brain, in analogy to the way physical fitness is improved by exercising the body.
In order for us to be smarter, we need to exercise our brain. This can be achieved through music playing. It is a common sight to see top students doing well in music. It is an equally-common misconception that these students are able to play a musical instrument well because of their ability to study well. Actually, this could work both ways.
There are indeed many ways and methods to do cognitive training but what else can be more fun and enjoyable than picking up a music instrument?
Watch former U.S. President Bill Clinton on the saxophone!

---
2) CREATIVE THINKING
In music, there is never a one-way path or model answer. Music is an art form and because of that, there are always multiple ways to solve a problem using different approaches! This improves how a child would tackle daily problems – they would be able to come up with various ways to complete a certain task better! Creative thinking is also something that is fundamentally-lacking in most people born and raised in Singapore. Most of us are "model answer" and "10-year series" students. But in life, there is hardly a model answer to things.
Watch our how our lessons are conducted!
---
3) TEAMWORK AND SOCIAL SKILL
In a musical band, there is no place for anyone to stand in a corner and simply 'play along'. There is a high need to interact with the other musicians. The next time you see a 'getai' performance, take a walk to the back of the stage area where the band is. You'll be surprised they are able to communicate to each other without the need to talk. The common words used in the music industry to describe this would be "tight" or "solid". This refers to the band being able to play as one. Try clapping 10 claps with someone next to you now and try doing that with a group of 5 or more. You will realize it gets more difficult as the number of members increases. This is when teamwork comes into play. Behind glamorous stage performances, band members often have to go through multiple conflicts and conflict resolutions. They will learn to exhibit a high level of teamwork as they grow as a band. They will learn how to be more sociable, which in turn increases their EQ level.
Watch the Vinnie Classroom Band perform Mr Big – Nothing But Love! See how important teamwork is in a band!
---
4) LEADERSHIP SKILL
Needless to say, in order to get a group of people working together, there must be a leader. I'm sure you've been into this awful situation where you meet up with a group of friends but have no idea where to head after dinner! This doesn't mean that everyone will need to fight to be the leader of the band. There's always the possibility of taking turns to have a say in a band and that's what playing in a band is about. Students lack sufficient opportunities to develop their leadership skills in a typical classroom environment. Or even, should they join any CCA, they'll need to be the the selected few in order to have any say. On the contrary, in a typical 4-piece band for instance, your child is responsible for 25% of the overall decision making.
---
5) GAIN CONFIDENCE AND BE HUMBLE AT THE SAME TIME
There are only a few types of activities that will help your child gain confidence and be humble at the same time, and they are usually extreme sports and the less extreme music. A budding musician will learn that there are many others who can play as well or even better than them. This keeps them checked and forces them to stay humble. They gain confidence by gaining valuable experience from performing their music. Be it on camera or in a live performance setting, their confidence levels increase as they perform.
Watch a performance from our first recital last year!
---
CONCLUSION:
Here at Vinnie Classroom, we want to empower the next generation through music. We believe music education is the key to bringing out the potential in everyone, young or old. Music lessons can be a great alternative to boring tuition which often comes at a hefty price. If your child has never learned any musical instrument, why not give it a try? If they took lessons but stopped, find out why and encourage them to pick it up again. If you are the child, show this article to your parents and start your musical journey! ☺
Find out what we have to offer here!